Posted by By Sid at 23 October, at 20 : 48 PM Print

So it's the end of the racing season, and as is the case every year, I get all reflective on the last 6 months…. which inevitably leads me to jeff-pearl.com to do a yearly recap rant. And each year it seems the traffic to what was once the internet hub of all things speedbowl is continually dwindling down. So for one last hoorah from my old weekly stompin' grounds, let's get stupid with the emoticons and take a look back at the 2013 season!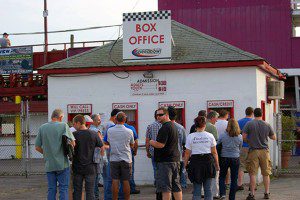 For the first time, I visited all 3 CT tracks on a weekly basis this season, not just Waterford. I missed only 2 events at Stafford, 2 at Thompson and the ppd Finale at the 'bowl. So instead of a strictly Speedbowl recap of the season like I usually do, this puppy is peppered with ramblings from all 3 CT facilities. One of the first things I realized while visiting other tracks is that the 'bowl is the perfect facility to produce Sid's View. Logistically, it's a small enough facility for us to get around the joint and do all we need to do on race day. And with our set-up of Jesse shooting in the stands with me while I'm mic'd up, he can get a good view of the entire track from our section. He can also easily shoot any interaction I'm having in the stands perfectly from the same spot. Not so easy at the bigger tracks for a number of reasons. And the racing itself on the track at the Speedbowl, in my opinion, is still the best of any of the 3 tracks with just enough meltdowns & drama off the track to keep the videos even more entertaining. I'm not saying my crew and I wouldn't pursue video work at other tracks, but the 'bowl is my home and as long as they'll let us and we continue to gain sponsors (see below) we'll always do Sid's View at the Speedbowl.
As for the season overall at the Speedbowl, it had some great moments that transcended well into video: Nichole's opening day meltdown on TC, Steve Barrett's homecoming from service overseas, Joey Gada adding to his family's legacy with his 1st career SK win, Rocco breaking Don Collins' 53-year old record for overall wins in a season, Victoria & Nichole winning on the same night, the Preece/Coby rematch in the Mr Rooter 161, Glenn Griswold dash thru the infield to confront Corey Barry. And who can forget the Outlaw race on Finale weekend one of the most entertaining races in quite a while. Mods were 20 deep every week, and while Rocco won the most races again, there were more different winners in the SK's than any other division at the track.
On the down side, the Mini Stock car count was a bummer. Only 12 cars on average for the first part of the year. SKL's were better but still need to improve. I hear next year only SKL cars will be legal, finally saying goodbye to the old X-Mod type cars. If true, I think that's the right call. Late Models weren't that entertaining once Dillon Moltz left Rocco won 5 of the 7 remaining races after that (rarely challenged) and he finished 2nd the other two times. Rocco fans probably loved it, but it didn't make for good video. Hope to see that division rebound cuz the Late Models have such a rich history at the 'bowl.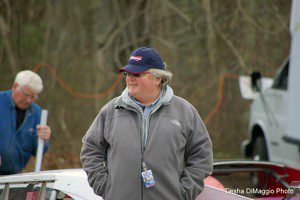 One of the big topics throughout the season was Terry Eames as acting Race Director It seemed to be a weird situation. Lots of grumblings of who's actually in charge of the race competition throughout the year. IMO the 'bowl still needs to find a Race Director. Terry got through the season, but I just don't see how the promoter & competition director can be the same person. It's just way too much. I don't think it was as bad as some thought it was, but it wasn't great either and many left competition (some for a week or two, some for good) specifically sighting the officiating in general at the 'bowl as to why they left. Terry has been quoted as saying "the only good Race Directors are the one that just left and the next one in line" and to some extent I believe that rings true. I mean, the RD position is a thankless job most of the time with lots of criticism no matter what… but I still think the 'bowl is better served when the Race Director and the promoter aren't the same person.
Going to Stafford regularly was fun this year. Originally we went up there to work with Ryan Preece on some video ideas for the PEAK Driver Search challenge he entered, and we had such a good time doing that we kept coming back. SMS is just a cosmetically beautiful facility. I always loved how the pit area is visible as you walk up to the main gate and from the midway. When it comes to the facilities, I'll quote my wife, who told me earlier in the year "I went to the pit bathrooms and they were immaculately clean, air-conditioned and even once saw an employee in there cleaning". Bathrooms cleanliness is always an issue with female patrons, and SMS is far & away the leader in that department.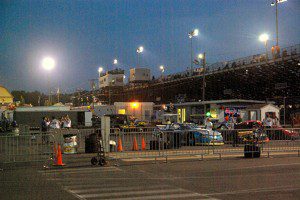 Still not totally thrilled with the actual racing at Stafford… among the 3 tracks, I'd rate it 3rd most weeks although I must say that I honestly only watched the SK & SKL divisions for the most part each week. But SMS races are better to watch then the handful of times I went up there in previous seasons. Ryan Preece was simply dominate early in the year running on the outside many times, which is something I didn't see drivers do at that track before. SK Champ Woody Pitkat had people up on their feet a couple times this year with his moves on the track too And Sean Foster's 'Short Track Racer' videos based up there are freakin' awesome For the most part, it was nice to go to the races and just be a spectator As much as I love producing Sid's View, it is alotta work on race day, so to go to another track and just hang out & meet new people in itself was a refreshing change. Plus, the SK division at Stafford is like an All-Star series I mean, the best of the best. Rocco, Preece, Pitkat, Pennink, Christopher, Coby, Berndt… you can't get better than that. And the SK Lights are awesome up there too. Not the 10-12 car field (or sometimes less) that the division is at both Waterford & Thompson, they are 20 deep every week and very entertaining.
As for Thompson, Mother Nature didn't let us get up there too often. And although I'm most closely affiliated with the Speedbowl, people assume I grew up there, which is untrue Aside for a handful of events in the mid-80's as a kid, I didn't go to the bowl on a regular basis until the middle of the 1998 season. Thompson (and the now-gone Riverside Park) are the tracks I grew up at… so TIS is always fun for me to go to. Plus I get to see my main man Jesse Gleason compete (he's a wheelman, scoring another 2 wins this season ). SK car counts were better there this year, but there were really only 4 or 5 cars that were serious contenders to win. Rocco, Pitkat & Preece collectively won 8 of the 10 races (Kerry Malone & Matt Gallo won the others), so it's the least competitively balanced of the SK divisions in CT. But overall, the racing at TIS is usually pretty entertaining… I do like the slingshot nature of the turns at Thompson which is unlike the other tracks. All in all, like SMS, it was nice to go to the races and spectate, not worry about video stuff all day, so I had fun every time.
Thompson Speedway brass took alotta heat for their commitment to reviving the road course and limiting the future of the oval track As a business move, it makes alotta sense, but it is sad to see such a historic track reduce it's oval track program. Let's not forget, Thompson Speedway was the very 1st asphalt oval in the United States… ever! However, the 7 event schedule released at the World Series for 2014 actually seems pretty intriguing. Thompson is a great place for big events and with almost every event having a touring series + some sort of bonus for the regular divisions (more laps, double pts, twin features) I think it might actually be pretty cool. They're going for quality over quantity with the oval track schedule; let's see how it plays out. That being said, I do feel for the weekly guys at Thompson who have supported the place for years, feeling they are being forced to decide whether to support the place still or move on to another facility where they can compete more often. I don't know all the rules for all divisions at all tracks, but I'd think unifying the rules to other tracks would be beneficial for both promoters & competitors. That's not any new idea, we've all been crying for that for years haven't we? Just seems like it makes even more sense now. Guess we'll see…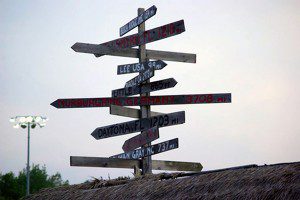 I'm guessing that a majority of the people will actually move on to another track, yet still compete at Thompson for their 7 events. Since they're scheduled on Wed, Thu or Sun the events won't interfere with Stafford, Seekonk or Waterford seasons. It could actually play out where the Thompson shows will see more cars who treat TIS as a special event series on top of their weekly committed track. Again, I feel for the people who have been going to Thompson weekly for years supporting the oval track, but I have a feeling this might all play out pretty well for both the track and the racing community.
Ya know, this is my 10th year doing a year-in-review type review and I usually make up some corny awards for the Speedbowl season But this year, since we travelled to all 3 tracks regularly, I'll instead share a conversation I had with my wife one night on the 80 minute drive home from Stafford late in the season. We came up with elements from all three CT tracks (both on & off the track) and ranked the 3 tracks for each. These are just our opinions, but nevertheless here's what we came up with:
BEST ON TRACK ACTION
Waterford, Thompson, Stafford
MOST STAR-POWER TYPE ROSTERS
Stafford, Thompson, Waterford
MOST COSMETICALLY APPEALING FACILITY
Stafford, Thompson, Waterford
BEST GRANDSTAND SEATING
Stafford, Thompson, Waterford
BEST PURSE STRUCTURE
Stafford, Thompson, Waterford
MOST NOTICEABLE SPONSOR INVOLVEMENT
Stafford, Waterford, Thompson
This includes everything from billboard signs, off track activities, PA spots, etc that are readibly noticeable while attending events
NICEST MIDWAY AREA
Thompson, Stafford, Waterford
BEST PIT AREA LOCATION
Stafford, Waterford, Thompson
Thompson pits are invisible to the general admission fan. TIS and SMS have infield pitting for some divisions, but a view of the pits, even from afar is always cool for the average fan without a pit pass IMO
BEST FOOD
Thompson, Stafford, Waterford
BEST FAMILY ATMOSPHERE
Waterford, Thompson, Stafford
Maybe it's because it's my hometrack, but the 'bowl vibe of extended family is unlike the other 2 tracks
BEST POST RACE CEREMONIES
Waterford, Stafford, Thompson
Thompson too cluttered and usually only winner, Stafford too far away, Speedbowl set-up perfect
BEST WEBSITE
Waterford, Stafford, Thompson
Thompson road course site is improvement, but oval track pages still ancient. Speedbowl site by far the leader in this area
BEST SOCIAL MEDIA PROMOTION
Waterford, Stafford, Thompson
Bowl continually had FB page giveaways, incorporated Twitter into radio show, etc. This does not include endless chirping on personal pages of racing affiliated people… more on that later
BEST BIG-EVENT FACILITY
Thompson, Stafford, Waterford
Thompson World Series is still the single greatest event for short track racing in the Northeast
So let's talk about touring series for a second. In the Modifieds, the VMRS consistently outdrew the NASCAR tour in terms of car counts this season. I think that speaks to just how expensive it is now to be competitive on the NASCAR tour. Some teams loyal to that tour have said that to me continually. It's just way too expensive to be a top team. I personally like the structure of the VMRS: heat race qualifying, no race over 100 laps, no changing tires, no 2-day events. And they do have some big names running full-time on that series like Rowan Pennink & Chris Pasteryak and young guns like Tommy Barrett & Steve Masse to name a few.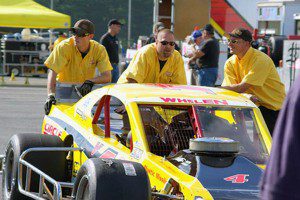 Yet for all the good things I like about the VMRS, it still doesn't have the aura of the NASCAR Modifieds. I don't know what it is, but there's definitely a more star-studded vibe around the NASCAR Mods. While the VMRS has grown to have a roster of big names now, the NASCAR tour has legendary names like Stefanik & Christopher. Younger guys like Santos & Preece who race all over the country whenever they can, and former champs still at the top of their game like Lia, Silk, Szegedy & Coby. I'm not sure how long NASCAR will have the Modifieds though and their constant attempts to treat it like a NASCAR national series can be annoying and IMO the wrong approach to the series' survival.
I personally also soured on NASCAR from the media stand point when inquiring about shooting the NASCAR Mr Rooter 161 in June at the Speedbowl. Local NASCAR guys familiar with our work on Sid's View referred us to NASCAR Media headquarters in North Carolina… and they didn't really seem to know a whole hell of a lot about Modifieds or short track racing. I question whether the people I talked had ever been to a short track or knew what a Modified car even looked like. Instead, they asked all these questions about media rights & insurance for my camera ops, etc. Ya know, stuff you would ask TV broadcast companies I tried to explain that I was a track historian who did this video stuff as a labor of love to help preserve the history of the sport. They didn't really seem to care and that was beyond disheartening. They said I could film the Mr Rooter show, but I could not put anything on YouTube without their consent at a later date. Eventually more WMT shows were run, more videos produced by others were posted on YouTube from those events, and they stopped returning my messages & emails. It became obvious that trying to go by the proper channels with NASCAR was a complete waste of time. Needless to say, if you went to our YouTube channel and found the 2013 playlist for Sid's View, ya just might be able to see our webisode from the event… but ya didn't hear that from me
And it is cool to see the NASCAR Mods on TV, but they need to find more modified-knowledgable announcers and for heaven's sake please someone teach them how to install in-car cameras in areas where you'll get good footage. TV productions have a nicer look obviously cuz they have big budgets and nicer equipment but we still pride ourselves on better coverage and our green-screen intro segment of the Mr Rooter 161 blew away what I saw on TV. Proud of my crew and what we accomplish on little to no budget. NBC Sports now has the rights to the Whelen Modified Tour. Don't confuse that with seeing all the events on TV… it just means NASCAR got lots of $$ from NBC for the rights to broadcast the events if they want. Whether any of the WMT events will actually be televised by NBC in 2014 hasn't been confirmed nor apparently required… pretty sad ain't it??
On the other hand, the VMRS has been beyond cooperative with any video ideas we've thrown their way, and we even did some promo work for them late in the season. Stay tuned as we might look to do more work with that series in the future.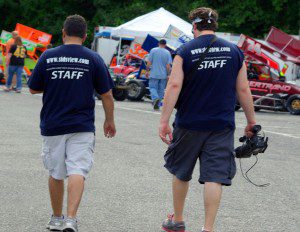 As for Sid's View in general, we are at a critical point actually. Our productions have been getting better each year, but they are becoming more expensive and more time consuming to produce both on raceday and in the editing booth. We desperately need sponsorship dollars to continue. We made it through this season with our 3 sponsors of Critical Signs, Mr Rooter and Thirty Marketing We also had a wonderful contribution from the majority of the race teams in the middle of the season and for the first time ever, we pretty much sold out of apparel this season. All of those things got us through the season, but it was barely enough. The value of what we do each week at the bowl, with all the equipment that is utilized, number of people on the Vault Crew hussling and then all that goes into the post-production to creat the final product is in the $2-3K range per event, ya know like if we were doing this kind of work in the corporate world, that's probably what our invoice would total each week. It'd be pretty sweet if we actually got paid that, but we're not dilusional… we know that will never happen. Like you racers, we know we will spend more than we will get in return producing our video work… But like the purse & sponsors help the race teams survive, we need sponsors & apparel sales to help us survive… so we have created sponsorship packages to help us generate some revenue. Visit www.sidsview.com for more details if anyone is interested in joining our team, sponsoring our video work and helping us continue our webisode series in 2014. If you are a weekly viewer, you probably noticed we only produced the SK events into webisodes each week with the supporting divisions sporadically as a way to cut back. Depending on how successful we are in securing additional sponsorship, we may cut back our output even further in 2014. Everything still TBD at this point…
So let's get to some more touchy subjects, shall we? One of the things I was reminded of while traveling around more frequently between tracks this year, is that like it or not, I'm somewhat of an ambassador for the Speedbowl… and that's usually a cool gig… except for those times when I'm peppered about the future of the 'bowl which this year seemed to happen more than usual. So I guess I'll give my two pennies on that deal
Truth to be told, I don't really know too much Nor do I try to find out really. I'm not a reporter & have no desire to be one. Blogger Boy takes enough heat doing that gig, he can have it! But the Speedbowl is in foreclosure again… that we do know & that's nothing new, that was reported on before the season started… just as it was back in 2007-2008. But do most of us don't even know what foreclosure really means? Does it mean there's gonna be an auction? OK, then when? No auction? OK, fine, but then what does that mean? And the question I get peppered with the most: Will Terry & Co. be in charge next year? A foreclosure can't possibly mean that everything keeps going on like normal with the foreclosure just quietly lingering in the background forever, can it? That's pretty much what happened this year. I think the racing community is too passionate about this sport to accept that for too long I mean, where's the resolution?? Can't it all just end already!! I'm just tired of all the speculation, rumors and predictions. I do believe it'll remain a racetrack no matter what happens. I don't really have any proof that will actually happen, nor do I have conversations with Terry or any other interested parties on the subject. Just a hunch I have… unlike the 2007-08 foreclosure drama where I was really nervous if the track would survive And as long as it's still a racetrack, I really don't care what happens… just happen already so we can move on in a more positive atmosphere!!
With that said, I gotta say the most bothersome comments on the foreclosure issue are the ones like "F that place, it's gonna be a truck stop soon anyway" I try to dismiss those comments as ones coming from people who aren't really passionate about short track racing. I mean, anyone who is passionate about short track racing wouldn't really want any of the tracks to close, would they? Don't get me wrong, there are things that bother me at all 3 tracks, but I don't want any of them to go away. That kinda commentary on the situation really irks me… Not because it couldn't happen… as optimistic as I feel about the bowl surviving, there's a chance it might not. But what does a F-U type comment like that do other than start more drama-filled bantering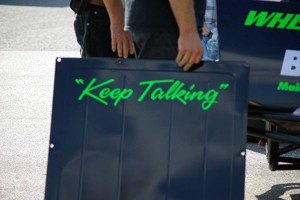 Which leads me to another rant… browsing thru the Facebook & Twitter feeds during the season like so many of us do nowadays, I've come to the opinion that there's way too many people in the racing community that have no clue how to use social media in a professional and/or objective manner Not that anyone has to, in alotta ways social media is just a more accessible form of free speech. You can say whatever you want on your Facebook or Twitter page… this is America and I get that. But sadly some days my news feeds became so filled with just cringe-worthy exhibitions of immaturity from people of all ages and from all aspects of the racing community (operators, officials, media, competitors, car owners, fans, sponsors) A lot of it was very unprofessional and it was sad to see people I considered friends to stoop to such levels. It just all snowballs to ridiculous levels… even people considering themselves the voice of reason are only continuing the drama. Then again, I'll be posting the link to this here rant on those same social media sites and could potentially stir multiple topics up all at once huh… maybe I'm the one who should shut the hell up after all
But hey, I once dove right in with all the internet drama on a weekly basis, once considered the ring-leader for online gossip mostly for writing my opinionated recaps here on jp.com. But nowadays, for the most part I like to think that when I've had my issues with what some people have said on social media, I contacted them directly and we amicably talked it out Didn't always agree afterwards, but didn't make it personal behind a keyboard either. Most of the stuff is none of my business or about me personally, but I just don't see why so many people like airing dirty laundry in public arenas… it's a pretty lame approach IMO. Like I said, I guess I'm getting older…
On that note, this in all likelihood will be my last post ever on jp.com. Since no one really goes to this site that much anymore, it's probably not a big deal to most, but for me it's kinda bittersweet. I can't believe it's been 10 years since my first post back in 2003 and something I did weekly through the 2009 season. In those pre-Facebook, pre-Twitter & pre-SidsView days, jp.com was pretty cutting edge. I remember how the old timers would bash the site's forum for all the gossip it fueled and me as the grand pubah of all chirpmouths
I mean, years before Doug Coby & Keith Rocco were throwing out zingers to each other on Twitter, Coby & I were verbally abusing each other on the jp.com forum on a weekly basis. Now only 5-6 years later with social media booming like a mutha, something like the jp.com is outdated. How quickly things change in the current age of technology. But as I've said forever, jp.com site is where I started… before webisodes & documentaries & publishing programs & historical research, this site is where I first started to build an audience for my outside-the-box look on short track racing. And for that, I will always have a soft spot for the once heavily-surfed jeff-pearl.com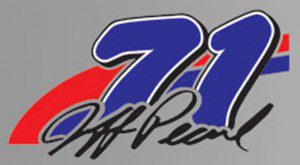 And since this is a jp.com post, I'd be remised if I didn't mention that it was pretty weird not seeing the Fox Hill Racing #71 SK on the track on a regular basis this year Jeff Pearl did make some quality appearances up in the family section this season as a spectator. There are two types of racers off the track – ones that are horrible fans, and ones that enjoy watching the races. JP is definitely the latter. I asked JP this past weekend at Thompson if we'd see the 71 SK more often next year… he made it seem like that was highly unlikely. I told him "I don't really like what you're telling me" he rebuffed "you don't have to like it" Classic JP right there!!
So anyway, in the coming weeks & months we'll be working on updates to all of our websites. May even set up a blog-type page on sidsview site where I can rant on topics from time to time. Not anything like the weekly recaps from the old days, but just an avenue to provide detailed info on projects or probably where I'll continue to do my year-in-review commentary in the future. The statistical site www.speedbowlhistory.com will be updated with 2013 info in the coming weeks and we will be diving back into the documentary film project on the Speedbowl as well. Be sure to like our FB fan page 'Sid's Vault Productions' to catch up on the latest until then. Special thanks to all the members of the Vault Crew who make it possible to accomplish what we do each season. You guys & gals are the best!
That's my 2013 story and I'm stickin' to it!
Peace Out Fools
Sid